Date:
Fri, 09/17/2021 -

6:30pm

to

8:00pm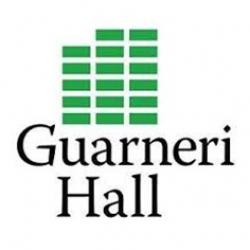 Classical chamber music incubator and presenter Guarneri Hall NFP will resume in-person events in September 2021, starting with NEXUS Chamber Music Chicago.
On September 17 at 6:30 PM, NEXUS Chamber Music Chicago will present a concert in Guarneri Hall entitled From Isolation, featuring the pyrotechnical Ballade by Eugène Ysaÿe; new Chicago Symphony Orchestra Composer-in-Residence Jesse Montgomery's Duo for Violin and Cello; A Sanguine Clockwork for String Trio by innovative cellist/composer Paul Wiancko; and Dmitri Shostakovich's timeless String Quartet No. 8 in C Minor, Op. 110, dedicated to the victims of fascism and war. NEXUS Co-artistic Directors, violinist Brian Hong, described as playing with "unrepressed elan" by the Chicago Classical Review, and cellist Alexander Hersh, who the RTBF Belgian Radio said "has everything to become a darling of the public," will be joined by violinist Rubén Rengel, praised as having "great virtuosity" by the NY Concert Review, and violist Ayane Kozasa, hailed by the Philadelphia Inquirer for her "magnetic, wide-ranging tone." Tickets - $40 general admission and $10 for students - are available here. The performance can be live streamed free on guarnerihall.org for those who can't attend in person, and will remain viewable through September 24.
In addition, NEXUS will allow small audiences a rare opportunity to watch working chamber music rehearsals. Attendees will see firsthand how a small ensemble (which, unlike an orchestra, has no conductor) works through collaborative decisions about interpretation and technique. Q&A sessions with the artists will follow each rehearsal. While all open rehearsals will be in Guarneri Hall, the first two (September 7 and 8) are in preparation for NEXUS' Ravinia concert, On Wings of Words, and the last two (September 15 and 16) are for the Guarneri Hall From Isolation concert. A limited number of observers will be admitted to each rehearsal free of charge by RSVP only, here.
Concert listings and tickets for Guarneri Hall's entire 2021-22 season are available here. Through 8/31/21, concert-goers can take advantage of build-your-own subscription discounts($20 off 3 concerts or $40 off 6 concerts, general admission). Livestreams of all concerts are available free of charge on guarnerihall.org.
About Guarneri Hall NFP:
Guarneri Hall NFP (GH) is a not-for-profit classical music incubator in Chicago. GH believes that people's lives are improved by access to classical music, that digital adaptation is essential to sustaining relevance for classical music, and that chamber music is uniquely powerful for classical music advocacy.
GH acts as a facilitator and catalyst for classical music through the production of live music events and videos, advocacy for emerging performers and music educators, and through innovative music education initiatives.
GH operates from Guarneri Hall in Chicago, a custom-built, 60-seat, live-music production facility designed by Chicago firm Threshold Acoustics as an optimal environment for capturing audiophile-quality sound recording and high definition multi-camera video of live acoustic performances.
Guarneri Hall NFP is partially supported by a grant from the Illinois Arts Council Agency.