Date:
Fri, 03/17/2023 - 7:30pm

to

Sat, 03/18/2023 - 11:00pm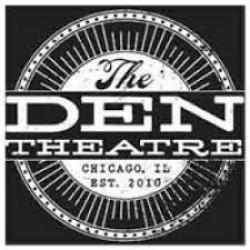 Celebrate St. Patrick's Day with Chicago's best Irish stand-up comedians at The Den Theatre's "Shamrock Shenanigans," playing three performances March 17 & 18, 2023 on The Heath Mainstage, 1331 N. Milwaukee Ave. in Chicago's Wicker Park neighborhood. The Den Bar and Lounge will be serving up all your Irish favorites including Guinness on draft, Jameson, Bailey's, and of course, green beer! Tickets ($25 general admission) are currently available at thedentheatre.com or by calling (773) 697-3830.
The line-up includes Adam Burke, Jeannie Doogan (March 17 only), Sean Flannery, Chelsea Hood (March 18 only), Joe Kilgallon and Kristen Toomey.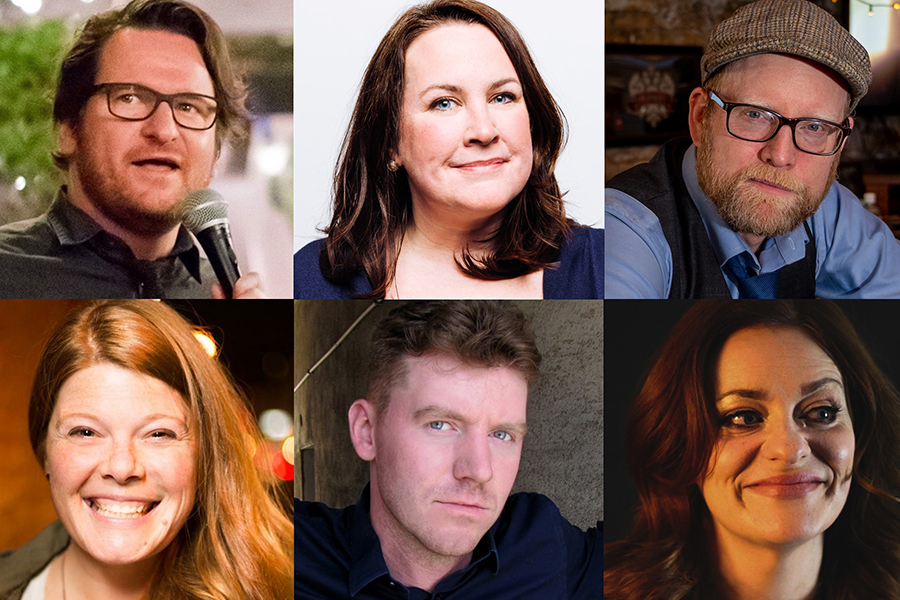 The Den Theatre's Shamrock Shenanigans features (top, l to r) Adam Burke, Jeannie Doogan and Sean Flannery (bottom, l to r) Chelsea Hood, Joe Kilgallon and Kristen Toomey.
Performance Schedule:
Friday, March 17 at 7:30 pm
Saturday, March 18 at 7:15 pm & 9:30 pm
COVID safety: The Den Theatre no longer requires patrons to offer proof of vaccination for COVID-19 to gain entry into the facility. For the most up-to-date information on our venue's COVID precautions, please visit thedentheatre.com/covid19-policy.
About the Comedians
Originally from Ireland (by way of Australia and England…long story), Adam Burke has been performing comedy in Chicago and throughout the U.S. for over fifteen years. He is a fixture on showcases and clubs throughout the Midwest and beyond. He is a regular panelist on NPR's popular comedy quiz show Wait Wait Don't Tell Me, and was a writer for WGN's Man of the People with Pat Tomasulo. He also hosts his own topical comedy meets mixology show "The 5 O'clock Somewhere News" on Instagram and YouTube. Voted Best Standup by readers of the Chicago Reader in 2014, he was also the winner of Second City's Up Next Comedy Competition. He has appeared at numerous festivals including HIgh Plains (Denver, CO), Bridgetown Comedy (Portland, OR), Just for Laughs Chicago (four years running) and the local stage of Funny Or Die's Oddball Comedy Festival. Burke released his debut album "Universal Squirrel Theory" on A Special Thing Records in 2012.
Jeanie Doogan started her career at the tender age of five when she quickly learned that as the youngest of eight children, she needed a hook if she ever wanted to be fed, bathed or have her existence acknowledged in any way. Failing miserably at tap dancing, Irish dancing, gymnastics and academics, she carved out her comedy niche with kick-ass knock-knock jokes and soon rose to fame at the family dinner table with such classics as: "knock-knock." "knock-knock." "knock-knock! Open the door! You left me outside again!" Since her kitchen table debut, Jeanie has entertained audiences at colleges, casinos and corporate events, and is a staple of Chicago Comedy. She was highlighted in Chicago Parents' Magazine's "Four of Chicago's Funniest: Stand Up Parents," and was featured on Team CoCo's House All Star Showcase and Nick Jr.'s Moms' Night Out debut stand up special.
Jeanie has set herself apart with her quick observations and no-apology take on teaching, parenthood and American culture. Her sharp wit draws on her experiences growing up on the South side of Chicago and 20 years as a public school teacher to deliver comedy that reaches audiences of all walks of life.
The easiest way to describe Sean Flannery is: he's attended the wrong wedding (twice). That mostly sums it up. Sean hosts and created The Blackout Diaries, a weekly Chicago comedy show that has run for over 10 straight years. He's appeared on Comedy Central, NPR, Sirius Radio and more. The Chicago Reader also named Sean the "Best Drunk in Chicago." He and his wife are having very different reactions to that award. Sean's first book, "Places I Can't Return To," debuted last spring. The Blackout Diaries is also available as a podcast, wherever podcasts are streamed, via Star Burns Audio.
Chelsea Hood is a stand-up comedian living in Chicago by way of the comedy scenes in both Dallas, TX and Brooklyn, NY. You may have seen her on WGN, The CW Network's Eye Opener or CW33's Nightcap. She was also featured on Stand Up! Records' "Texas Mess" album recorded at SXSW.
She stumbled into the performing arts at an extremely young age singing in children's choirs and working in high school productions. She went on to get her BA in Acting from Illinois State University with a concentration in vocal performance. She's studied improv at both Second City in Chicago and Four Day Weekend in Fort Worth, Texas.
Chelsea's style of humor is observational, feminist and pleasantly self-deprecating. Some of the comics she has been delighted to open for include Marc Maron, Jay Mohr, Donnell Rawlings, Maria Bamford, Ralphie May, Richard Lewis, Pauly Shore, JB Smoove, Paul Rodriguez, Tom Green, Michael Winslow, Bobby Lee, and many more.
She was most frequently featured performer at Limestone Comedy Festival, one of eight chose as the Best of the Midwest at Gilda's LaughFest and a Comic to Watch at RIOT LA. Some of the clubs and venues she's had the privilege of performing at include The Comedy Store, Caroline's on Broadway, The House of Blues, The Improv, Zanie's, Thalia Hall Chicago, Upright Citizen's Brigade NY, the Lincoln Lodge (Chicago) and a long list of prestigious bar basements across this country. Once on the bed of a tractor trailer, in a field in Texas, in the middle of an ATV park.
Born and raised in Chicago, comedian Joe Kilgallon recently moved to Los Angeles, where he immediately found work as a stay-at-home dog dad. Kilgallon started his stand-up comedy career after reading that most presidential candidates had college degrees and came to the hard truth that a 2020 run for the White House was a long shot at best.
Described by the Chicago Tribune as having "a straight shooting, pull-no-punches style," Joe has performed at clubs and colleges all over America. He's been a personal opener for stars such as Hannibal Buress, Roy Wood Jr and Steve Byrne. With material ranging from alcohol to sex, Kilgallon is sure to rant about something the whole family can enjoy.
After only a few short months in LA, he became one of the quickest comedians to get passed at the world-famous Laugh Factory in Hollywood. Kilgallon has appeared on NBC Sports and TBS. His debut album, "Pay Attention," opened #1 on the iTunes Comedy Charts and Top 10 on the Billboard Comedy Charts. Joe also produces Comedians You Should Know LA, a weekly stand-up showcase blending the best of LA's club and alt scenes every Thursday night at the Improv Lab in West Hollywood. Joe has also taken his love for sports and turned it into a hit podcast called "Comedians Talking Sports." In the meantime, you can follow Joe on Instagram where he constantly posts pictures displaying how cute he used to be.
Kristen Toomey's stand-up career began in 2008. Since then, she has headlined comedy clubs all over North America. Her commanding stage presence and energetic expressive and truthful style of comedy are just a few reasons entertainment website The A.V. Club said "Kristen Toomey is a Chicago Original."
In 2019, her debut album "Mother. F**ker." reached #1 on iTunes. She can be seen regularly at the top clubs in New York and Chicago like The Stand, New York Comedy Club, Zanies and Laugh Factory. Kristen has performed at numerous festivals such as the prestigious Just For Laughs in Montreal, Oddball Festival, Flyover in St. Louis and more. She has opened for Kevin Nealon, Chris Redd, Janelle James, Kyle Kinane, Natasha Leggero. You can currently see her standup on Kevin Hart's LOL! Network and Comedy In Color streaming on Peacock.
About The Den Theatre 
The Den Theatre opened in 2010 in the Wicker Park neighborhood with just a single theatre space. Now celebrating its thirteenth year, Co-owners Ryan Martin and Carol Cohen, along with their talented and dynamic staff, have developed The Den into a multi-level, live entertainment venue that boasts five intimate and unique theaters ranging from 50 – 300 seats. In addition, the first floor houses The Den Bar & Lounge – a full-service bar where audiences gather before and after performances to share a drink and commune with like-minded culture-hounds. Today, The Den is focused on providing world-class stand-up comedy and cultivating its first love – the theatre. The Den is home to six resident theatre companies including About Face Theatre, The Artistic Home, Broken Nose Theatre, First Floor Theater, Haven and The New Coordinates. Hundreds of other companies, artists and comedians from Chicago and beyond have called The Den home – from national names to local stars, and The Den consistently plays host to a lineup of exciting and diverse talent. As a building created for interdisciplinary arts, The Den has accommodated a wide variety of programming, including plays, musicals, stand-up comedy, improv, dance, film screenings, seminars and speaking engagements. For additional information, visit www.thedentheatre.com.