Date:
Sun, 04/04/2021 - 12:01am

to

Sat, 04/10/2021 - 11:59pm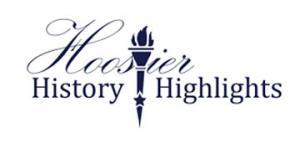 Indiana Quick Quiz
  Who is the current Governor of Indiana?
  Who is the current  Lieutenant Governor of Indiana?
  Holli Sullivan was recently appointed to what state executive office?
Answers Below 
1862     In the Civil War, the 44th Indiana Volunteer Infantry fought at the Battle of Shiloh in southeastern Tennessee.  In the two-day battle, nearly half the men in the unit suffered casualties, with 34 killed and 177 wounded.  The regiment, nicknamed "The Iron Forty-Fourth," was comprised of soldiers from Steuben, Allen, Kosciusko, Noble, Whitley, DeKalb, LaGrange, and Elkhart counties.  Pictured:  The monument to the 44th at the Shiloh National Military Park.  
1912     Eliza Blaker was guest speaker at Roberts Park Church in Indianapolis.  She talked about schools and said, "A teacher must have high ideals and always be a student of child nature."  A pioneer in public education, she served as superintendent of the city's first free kindergarten system.  She also established a teacher's college which later became part of Butler University.
1927     Author Meredith Nicholson led ceremonies in observance of the 100th anniversary of the birth of Lew Wallace (pictured.)  A large crowd gathered in the Crawfordsville High School auditorium as honors were paid to the Civil War General who also wrote Ben Hur and other best-selling novels. Nicholson said Wallace was "erect, soldierly, and impressive in appearance. . . scrupulously honest and uncompromising with wrong."
1949    One of the nation's most popular radio programs was broadcast live from the Fairgrounds Coliseum in Indianapolis.  "Ted Mack's Original Amateur Hour" featured a variety of local talent, including the "Continental Four" from Washington High School, Dennis Thompson and the Wabash Valley Boys, and the "Rhythm Rascals."  The winners of the competition were the Harris Triplets from Muncie (pictured.)  The three eight-year-old boys were flown to New York City where they sang on Mack's Sunday night television show.
1959     The nation's first astronauts were introduced by the National Aeronautics and Space Administration (NASA.)  All military pilots, they were selected to take part in Project Mercury, America's first manned space program.  Introduced to the press were Scott Carpenter, L. Gordon Cooper, John H. Glenn, Virgil "Gus" Grissom, Walter Schirra, Alan Shepard, and Donald Slayton.  Grissom (pictured) was from Mitchell, Indiana, and was a graduate of Purdue University.  
Did You Know?
     Growing up in Mitchell, Indiana,  Virgil "Gus" Grissom was a boy scout who liked to build model planes. Perhaps it was that interest which eventually led him to become a test pilot in the Air Force.  Chosen as one of America's first seven astronauts, he was the second American to travel in space.  In 1967, he died along with fellow astronauts Ed White and Roger Chaffee in a pre-launch Apollo 1 accident.  He is honored by his hometown with a 44-foot memorial.  The rocket-shaped limestone monument towers over the former site of the grade school which Grissom attended.  In nearby Spring Mill State Park, the Gus Grissom Museum contains a Gemini space capsule, a space suit, and personal items from Grissom's life.  
1990     Ryan White died at age 18.  An AIDS patient, his courageous struggle for acceptance gained national attention.  He was befriended by many, including President Ronald Reagan, Elton John, Elizabeth Taylor, Bobby Knight, and John Mellencamp.  Thousands attended his funeral at the Second Presbyterian Church in Indianapolis.  There were nearly 200 cars in the funeral procession that led to the Cicero Cemetery in Hamilton County.
Hoosier Quote of the Week
"It was my decision to live a normal life, be with my friends, and enjoy day to day activity.  It was not going to be easy."  - - - Ryan White (1971 - 1990)
Abe Martin Sez:
Celery should be seen and not heard.     (Kin Hubbard, Back Country Folks, 1913)
ANSWERS:  1.  Eric Holcomb    2.  Suzanne Crouch  3.  Secretary of State
   You are invited to take a "Virtual Tour" of the Indiana Statehouse.  Just click the link at the bottom of this column.
   Follow this link to subscribe to Hoosier History Highlights and to view archived editions
 INDIANA STATEHOUSE TOUR OFFICE - Indiana Department of Administration
Tours of the Indiana Statehouse are offered Monday through Friday by appointment only.  For more information, please contact us.
(317) 233-5293 | captours@idoa.in.gov  | http://www.in.gov/idoa/2371.htm
Take an "Armchair Tour" of the Indiana Statehouse!
Follow us:   Instagram @instatehousetouroffice; Facebook @Indiana Statehouse Tour Office and Education Center; Twitter @INSthouseEdCntr