Date:
Tue, 09/28/2021 -

6:00pm

to

7:30pm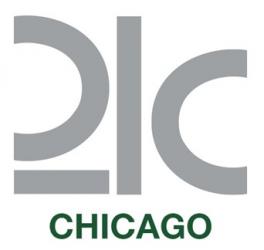 21c Museum Hotel Chicago today announced co-director of Experimental Sound Studio Olivia Junell as the featured curator alongside a soon-to-be-revealed Chicago-based artist for its bi-monthly "Curator Conversation" scheduled to take place Tuesday, Sept. 28 at 6 p.m. in the hotel's Main Gallery.  21c Chicago's "Curator Conversations" is a free bi-monthly discussion series pairing curators and artists from Chicago's arts community to discuss artistic visions, experiences and recent work.
With over 15 years of experience working in development at small to mid-sized arts non-profits, Olivia Junell's work has been foundational to the Chicago arts sector after she moved to the city in 2013. Junell is the Chair of the Development Committee of Honey Pot Performance and the program director for Back Alley Jazz, a project of the Hyde Park Jazz Festival and South Shore Works. Having worked with dozens of artists to secure funding for their visions, Junell will lead a conversation with a Chicago-based artist on their vision and experiences that led them to their recent work. Following the event, visitors are invited to experience 21c Chicago's current exhibition on view, This We Believe.
September "Curator Conversation" is scheduled to take place Tuesday, Sept. 28 at 6 p.m. in the hotel's Main Gallery.  Photo credit 21c Museum Hotel.
One of nine locations that form North America's only multi-venue museum dedicated to collecting and exhibiting the art of the 21st century, 21c Chicago's 10,000+ square feet of exhibition space features rotating solo and group exhibitions in addition to installations curated by Museum Director and Chief Curator Alice Gray Stites. The current exhibition on view, This We Believe, features the work of more than 50 notable contemporary artists, including Kara Walker, Yinka Shonibare, and Titus Kaphar, and explores the power and evolution of religious, political and economic belief systems and how allegiance to ideology has influenced our current global culture of divisiveness and polarization. The museum is open for public visits 24 hours a day, seven days a week, free of charge.
About Olivia Junell
Olivia Junell is director of development and outreach at Experimental Sound Studio. She has over 15 years of experience working in development at small to mid-sized arts non-profits, where she has gained extensive, diverse experience in fundraising, project management, project development, budgeting, production, strategic planning and marketing. Along the way, both independently and in the context of organization-based projects, she has worked with dozens of artists to secure funding for their visions.
A native Texan, Olivia moved to Chicago in 2013 to earn a dual Masters in Arts Administration and Public Policy and Modern Art History and Critical Writing at the School of the Art Institute Chicago (2016). She has held various roles at a number of contemporary arts and music organizations, including significant development and leadership roles at the Hyde Park Jazz Festival (Chicago), the Contemporary Arts Museum Houston, High Concept Labs (Chicago) and Women & Their Work (Austin), among others.
About 21c Museum Hotels
21c Museum Hotels, an award-winning hospitality company based in Louisville, Kentucky, is pushing the boundaries of both the museum and hotel worlds to create a new kind of travel experience. The company was founded as a single property by contemporary art collectors and preservationists Laura Lee Brown and Steve Wilson, whose mission was to share innovative contemporary art with the public and participate in the revitalization of downtown Louisville. The couple opened the first 21c in 2006 along downtown's West Main Street, rehabilitating a series of 19th-century warehouses to create a union of genuine hospitality, thoughtful design and culinary creativity — all anchored by a contemporary art museum. Today, guests can enjoy nine 21c Museum Hotels in Louisville, Kentucky; Cincinnati, Ohio; Bentonville, Arkansas; Durham, North Carolina; Lexington, Kentucky; Nashville, Tennessee, Oklahoma City; Oklahoma; Kansas City, Missouri and Chicago, Illinois. 21c projects are also under development in Des Moines, Iowa and St. Louis, Missouri. The company is equally focused on creating unique, chef-driven restaurants that are as much a part of the community as each hotel. The 21c restaurant portfolio includes; Proof on Main, Metropole, The Hive, Counting House, Lockbox, Mary Eddy's Kitchen x Lounge, Gray and Dudley, The Savoy, and Garage Bar.
About Accor
Accor is a world-leading augmented hospitality group offering unique experiences in more than 5,000 hotels and residences across 110 destinations. The group has been acquiring hospitality expertise for more than 50 years, resulting in an unrivaled portfolio of 39 hotel brands, from luxury to economy, supported by one of the most attractive loyalty programs in the world.
Accor Live Limitless (ALL) is a daily lifestyle companion that integrates rewards, services and experiences, bringing value to everyday life while inventing a completely new aspirational way to live limitless.
Accor is deeply committed to sustainable value creation and plays an active role in giving back to the planet and community via its Planet 21 – Acting Here program and the Accor Solidarity endowment fund, which gives disadvantaged groups access to employment through professional training.
Accor SA is publicly listed on the Euronext Paris Stock Exchange (ISIN code: FR0000120404) and on the OTC Market (Ticker: ACRFY) in the United States. For more information visit accor.com. Or become a fan and follow us on Twitter and Facebook.