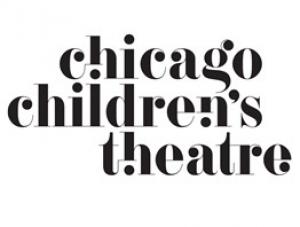 Leonardo is a terrible monster. He tries so hard to be scary, but he just…isn't.
Then Leonardo finds Sam, the most scaredy-cat kid in the world. Will Leonardo finally get his chance to scare the tuna salad out of an unsuspecting human? Or will it be the start of an unlikely friendship?
Find out when Chicago Children's Theatre presents Manual Cinema's world premiere live production, Leonardo! A Wonderful Show about a Terrible Monster, inspired by the children's books by Mo Willems. Performances are January 29-February 27, 2022.
Manual Cinema's Leonardo! A Wonderful Show about a Terrible Monster is the story of (left) Leonardo and his scaredy-cat friend, Sam, who meet an even scaredier-cat and her monster friend, Frakenthaler and Kerr (right).
Press opening performances are Saturday and Sunday, January 29 and 30 at 10:30 a.m. or 12:30 p.m.
The newest creation by Chicago's wildly inventive Manual Cinema, Leonardo! A Wonderful Show about a Terrible Monster is monstrously fun for kids and parents alike, realized through a remarkable mix of live actors, 3D puppets, DIY cinema, original music and immersive sound. It starts as the story of a monster who longs to be scary, but the plot thickens when Leonardo and his excitable friend Sam meet Kerry and Frankenthaler, an even scaredier-cat and her monster friend. Kerry and Sam will need to make a big decision: will they be friends or will they be controlled by their fears? Leonardo! A Wonderful Show about a Terrible Monster helps children understand the big decisions about identity and empathy that we all must make.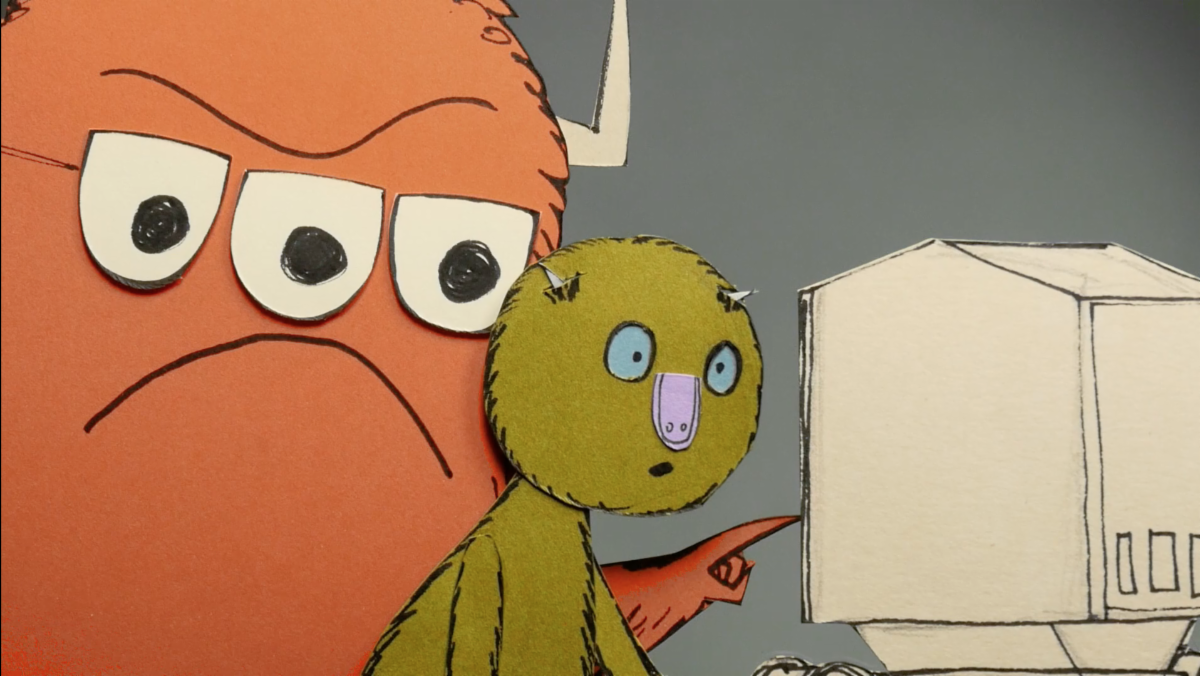 Manual Cinema, the Chicago Tribune's "Chicago Theater Artists of the Year" in 2018, is coming off widespread acclaim as the shadow puppet animators for the major motion film Candyman, released last summer by Jordan Peele's Monkeypaw Productions.
Fast forward to 2022, and Leonardo! A Wonderful Show about a Terrible Monster marks the company's return to staging new work, live and in-person, since the pandemic.
An earlier version, titled Leonardo and Sam, received its virtual world premiere at the Kennedy Center for the Performing Arts in March 2021. "The lessons explored are universal and important for any age," wrote DC Metro Arts. Broadwayworld agreed the virtual adaptation "creatively educates, entertains and inspires." 
Watch the trailer for Leonardo and Sam, which received its streaming world premiere at the Kennedy Center for the Performing Arts in March 2021. Manual Cinema's new in-person production, Leonardo! A Wonderful Show about a Terrible Monster, will debut at Chicago Children's Theatre January 29-February 27, 2022.
Leonardo! times, dates and ticket information
If you want to see the live version of Leonardo! A Wonderful Show about a Terrible Monster, you better get Kraken.
Performances run January 29-February 27, 2022: Saturday and Sunday at 10:30 a.m. and 12:30 p.m. Tickets are $32. Run time is 60 minutes with no intermission. For tickets, visit chicagochildrenstheatre.org or call Chicago Children's Theatre Guest Services, (312) 374-8835.  
School performances are Tuesday through Thursday at 10 a.m., and Friday at 10 a.m. and Noon. Email groupsales@chicagochildrenstheatre.org or to learn about discounted rates for schools and other groups.
Chicago Children's Theatre is centrally located at 100 S. Racine Ave. in the city's West Loop neighborhood. It is a convenient, welcoming community hub, just minutes from I-90, I-290, downtown and Ashland Avenue. Chicago Children's Theatre offers free, on-site parking in its own lot, entrance via Racine. Nearby street parking is also available on weekends, or try the Impark parking lot, 1301 W. Madison St.
Leonardo! is recommended for little monsters ages 5 and up.
Please note: Chicago Children's Theatre is a "no shushing" theater.
Access Weekend is Saturday and Sunday, February 12 and 13
CCT continues to grow its commitment to all Chicago children at The Station by expanding services for patrons with disabilities. Access Weekend is February 12 and 13. Services include:
ASL interpretation and Open Captioning: Saturday and Sunday, February 12 and 13
Touch Tour:  Sunday, February 13, before the 10:30 a.m. show
Sensory Friendly: Saturday and Sunday, February 12 and 13
For more information about access and inclusion at Chicago Children's Theatre, visit chicagochildrenstheatre.org/access or email access@chicagochildrenstheatre.org.
Covid safety policies
Alongside a growing coalition of more than 70 performing arts venues and producers across Chicagoland, Chicago Children's Theatre has agreed to ensure COVID-19 vaccination and mask requirements for audiences, artists, and staff. Face coverings must be worn over the nose and mouth for all individuals above the age of 2 (exceptions can be made for people with medical conditions or disabilities that prevent them from safely wearing a face covering). Adults attending a CCT production will be asked to show proof of vaccination or negative covid test taken within 72 hours of showtime. CCT recommends reviewing the full City of Chicago Phase 5 guidelines for businesses and venues. For more information about CCT's COVID-19 safety protocols, visit chicagochildrenstheatre.org/covid.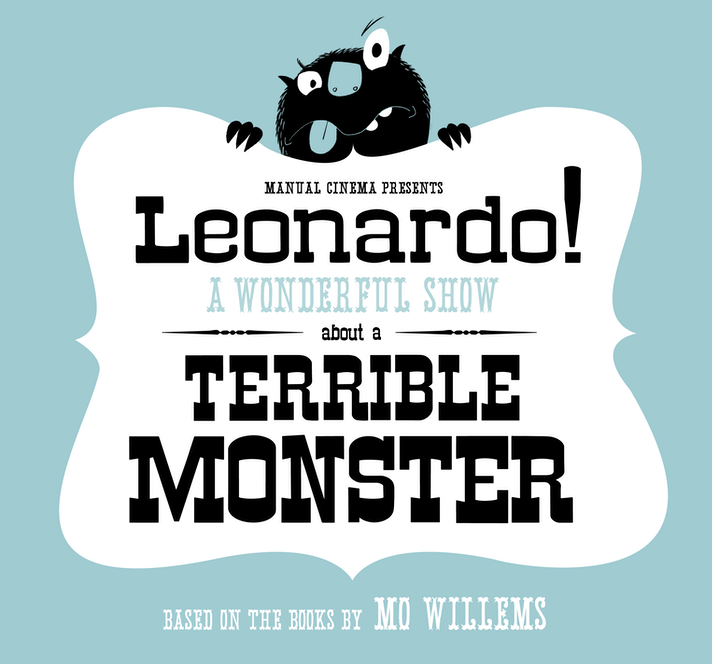 The creative team:
Leonardo! A Wonderful Show about a Terrible Monster 
Leonardo! A Wonderful Show about a Terrible Monster is created by Manual Cinema and inspired by the books "Leonardo, the Terrible Monster" and "Sam, The Most Scaredy-Cat Kid in the Whole World" by Mo Willems. It is directed by Sarah Fornace, and adapted by Sarah Fornace and Drew Dir with Ben Kauffman. Storyboards by Drew Dir. Original score and sound design by Ben Kauffman and Kyle Vegter. Cast members are Leah Casey (Kerry, puppeteer), Lily Emerson (Emily, narrator, character voices, vocals), Julia Miller (Sam, puppeteer) and Lindsey Noel Whiting (Leonardo, puppeteer). Dramaturg is Megan Alrutz. Images by Manual Cinema. Characters by Mo Willems used with permission.
About Manual Cinema
"Chicagoans of the Year: Directors of Manual Cinema have created a whole new art form"   -Chris Jones, Chicago Tribune
"This Chicago troupe is conjuring phantasms to die for"  -Ben Brantley, New York Times
Manual Cinema, named Chicago Artists of the Year in 2018 by the Chicago Tribune, is an Emmy Award winning performance collective, design studio, and film/video production company founded in 2010 by Drew Dir, Sarah Fornace, Ben Kauffman, Julia Miller and Kyle Vegter. Manual Cinema combines handmade shadow puppetry, cinematic techniques, and innovative sound and music to create immersive stories for stage and screen imbued with liveness, ingenuity, and theatricality.
To date, Manual Cinema has created nine feature length live multimedia theater shows; a live cinematic contemporary dance show created in collaboration with Hubbard Street Dance; an original site-specific installation for the MET Museum; an original adaptation of "Hansel & Gretel" created for the Belgian Royal Opera; music videos for Sony Masterworks, Gabriel Kahane, three time GRAMMY Award-winning eighth blackbird, New York Times best-selling author Reif Larson and Grammy Award winning Esperanza Spalding; a live non-fiction piece for Pop-Up Magazine; a self-produced short film; a museum exhibit created in collaboration with the Chicago History Museum; live cinematic puppet adaptations of StoryCorps stories and NPR's Invisibilia and four animated videos for the Poetry Foundation. Manual Cinema was hailed for its shadow animation in the major motion picture remake of Candyman, directed by Nia Acosta and produced by Jordan Peele's Monkeypaw Productions. The company was awarded an Emmy in 2017 for The Forger, a documentary short created with The New York Times, and was nominated for Peabody Award and won 2nd prize in the World Press Photo 2017 Digital Storytelling Contest, Long Form.
Manual Cinema's live adaption of Edith Nesbit's 1910 novel The Magic City was the inaugural production in Chicago Children's Theatre's new home, The Station, in January 2017. Manual Cinema also has been presented by, worked in collaboration with, or brought its work to The Metropolitan Museum of Art (NYC), The Tehran International Puppet Festival (Iran), La Monnaie-De Munt (Brussels), Brooklyn Academy of Music (NYC), Underbelly (UK), Adelaide Festival (AU), The Avignon Off Festival (France), The King Abdulaziz Center for World Culture (Saudi Arabia), Theatre World Festival Brno (Czechia), A Tarumba – Teatro de Marionetas (Portugal), The Chan Center for the Performing Arts (British Columbia), The Kennedy Center (DC), The Kimmel Center (Philadelphia), the Museum of Contemporary Art Chicago, the Noorderzon Festival (Netherlands), The O, Miami Poetry Festival, Handmade Worlds Puppet Festival (Minneapolis), The Screenwriters' Colony in Nantucket, The Detroit Institute of Art, The Future of Storytelling Conference (NYC), the NYC Fringe Festival, Arts Emerson (Boston), Yale Repertory Theatre, The Poetry Foundation (Chicago), The Chicago International Puppet Festival, Pop-Up Magazine, The Chicago International Music and Movies Festival, The Puppeteers of America: Puppet Festival (R)evolution, The Public Theatre's Under the Radar Festival (NYC), and elsewhere around the world.
For more information, visit manualcinema.com, follow the company on Facebook at facebook.com/manualcinema, on Instagram at instagram.com/manual_cinema and on Twitter @ManualCinema.
About Mo Willems
Mo Willems is an author, illustrator, animator, playwright, and the inaugural Kennedy Center Education Artist-in-Residence, where he collaborates in creating fun new stuff involving classical music, opera, comedy concerts, dance, painting, and digital works with the National Symphony Orchestra, Ben Folds, Yo-Yo Ma and others.
Willems is best known for his #1 New York Times bestselling picture books, which have been awarded three Caldecott Honors (Don't Let the Pigeon Drive the Bus!, Knuffle Bunny, Knuffle Bunny Too), two Theodor Geisel Medals and five Geisel Honors (The Elephant & Piggie series).
Willems's art has been exhibited around the world, including major solo retrospectives at the High Museum (Atlanta) and the New-York Historical Society (NYC). Over the last decade, Willems has become the most produced playwright of Theater for Young Audiences in America, having written or co-written four musicals based on his books.
He began his career as a writer and animator on PBS' Sesame Street, where he garnered six Emmy Awards (writing). Other television work includes two series on Cartoon Network: Sheep in the Big City (creator and head writer) and Codename: Kids Next Door (head writer). Willems is creating new TV projects for HBOMax, where his live action comedy special Don't Let the Pigeon Do Storytime! currently streams. His papers reside at Yale University's Beinecke Library. For more, visit mowillems.com.
Coming soon to Chicago Children's Theatre
Dreams will come true in the spring when CCT presents the world premiere of Carmela Full of Wishes, adapted from the book by Matt de la Peña and Christian Robinson (Last Stop on Market Street), April 23-May 22, 2022. Single tickets are on sale now at chicagochildrenstheatre.org.  
Free, on-demand virtual theater and learning from Chicago Children's Theatre
New, original virtual programs This Ability (left) and The Relocation of Nokwsi (right) are posted for free, on-demand streaming on Chicago Children's Theatre's new YouTube channel, CCTV: Virtual Theatre and Learning from Chicago Children's Theatre.
Chicago Children's Theatre continues to produce and present free, original virtual content for kids, available 24/7, on demand via chicagochildrenstheatre.com, and the company's YouTube channel, CCTV: Virtual Theatre and Learning from Chicago Children's Theatre. New digital programs include This Ability, a three-part, Chicago-set adventure series featuring actors with disabilities, written by Daniel Carlton and Nambi E. Kelley, The Relocation of Nokwsi, a new Native American-themed video by Robert Hicks Jr., and a growing catalog of Walkie Talkies audio adventure podcast tours through Chicago's many neighborhoods.
Classes and Camps at Chicago Children's Theatre
In addition to presenting plays, musicals and virtual productions, Chicago Children's Theatre is one of the city's top destinations for performing arts classes and camps for kids ages 0 to 14.
And while education programs are all about the kids, parents should take note of School's Out Day Camps, for kids grades K-5 on those "surprise" CPS non-attendance days. Sign up now and check out the full slate of Winter Session In-Person Classes and Camps for kids 0-14, including a series of Red Kite classes for children on the autism spectrum, starting January 24, 2022.
About Chicago Children's Theatre
"The Chicago theater scene is legendarily vibrant, so naturally a number of companies tailor productions to younger audiences. The cream of the crop is Chicago Children's Theatre." – Chicago Tribune
Chicago Children's Theatre was founded in 2005 with a big idea: Chicago is the greatest theater city in the world, and it deserves a great children's theater. Today, Chicago Children's Theatre is the city's largest professional theater company devoted exclusively to children and young families. CCT has established a national reputation for the production of first-rate children's theater with professional writing, performing, and directorial talent and high-quality design and production expertise.
In January 2017, the company celebrated the opening of its new, permanent home, Chicago Children's Theatre, The Station, located at 100 S. Racine Avenue in Chicago's West Loop community. The building, formerly the Chicago Police Station for the 12th District, was repurposed into a beautiful, LEED Gold-certified, mixed-use performing arts, education and community engagement facility that now welcomes all Chicago families.
CCT provides tens of thousands of free and reduced-price tickets to under-resourced schools each season in partnership with Chicago Public Schools. CCT also continues to grow its performing arts and STEAM education programs, offering classes, workshops, winter and spring break camps, and summer camps for ages 0 to 14.
In 2019, Chicago Children's Theatre won the National TYA Artistic Innovation Award from Theatre for Young Audiences/USA. In addition, Chicago Children's Theatre has garnered six NEA Art Works grants, and in 2017, became the first theater for young audiences in the U.S. to win a National Theatre Award from the American Theatre Wing, creators of the Tony Awards.
Chicago Children's Theatre's 2021-22 Season of Resilience is supported by Goldman Sachs, Paul M. Angell Family Foundation, The Ralla Klepak Foundation for Education in the Performing Arts, The Shubert Foundation, Polk Bros Foundation, The MacArthur Fund for Culture, Equity and the Arts at Prince, Bayless Family Foundation, The Crown Family, Rea Charitable Trust, ComEd, US Bank, City of Chicago Department of Cultural Affairs and Special Events (DCASE), Illinois Arts Council, Illinois Humanities Council, National Endowment for the Arts (NEA), The Susan M. Venturi Fund in memory of James and Roslyn Marks to Support Theatre Education Accession, and Erin and Jason, Ben, Bici and David Pritzker.
Chicago Children's Theatre is led by Co-Founders, Artistic Director Jacqueline Russell and Board Chair Todd Leland, with Board President Armando Chacon.
For more, visit chicagochildrenstheatre.org.