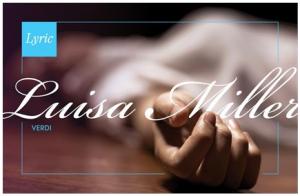 Luisa (soprano Krassimira Stoyanova) lives a mostly idyllic existence in the Tyrolian Alps. Passionately in love with Rodolfo (tenor Joseph Calleja) and cared for by her protective father Miller (baritone Quinn Kelsey), a former soldier, her life is about to take a dramatic and tragic turn.  Awakened by the local farmers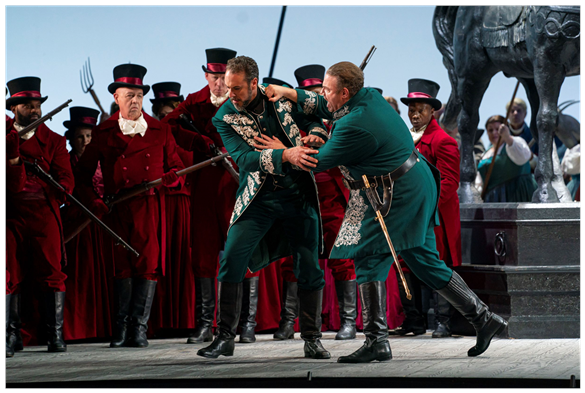 singing as they depart to work in the fields at the opera's opening, this moment is really the only time that we see Luisa happy.
Rodolfo, who Luisa believes is named Carlo, is actually the son of the local lord, Count Walter (bass-baritone Christian Van Horn), who obtained his title in a nefarious fashion. Suspicious of Rodolfo's actual lineage and also aware of Walter's wicked nature, Miller does not bless the intended union of Luisa and Rodolfo. Neither does Walter, for he wants his son to marry Federica, Duchess of Ostheim (mezzo-soprano Alisa Kolosova). Walter believes that it's much better to marry nobility than a mere peasant, so he enlists the aid of his retainer Wurm (bass Soloman Howard), who is actually also in love with Luisa, to blackmail her and force her to deny her true feelings in a written letter.
Having been imprisoned for defending his daughter's honor and insulting the Count, Miller returns home to Luisa after his release and the two plan to leave the village. But this being a Verdi tragedy, we all know that escape is impossible and the fate of Luisa, Rodolfo and Wurm will not end happily.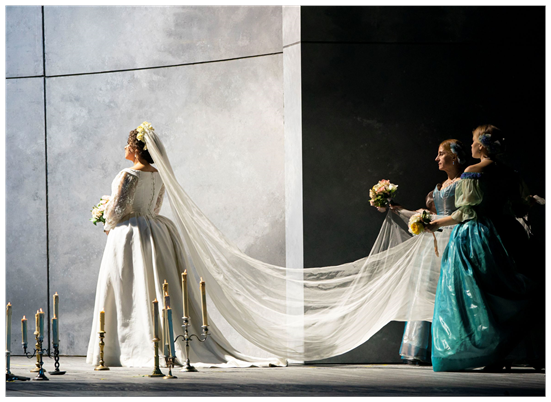 Stoyanova is simply sensational as Luisa. Verdi certainly did not give his Luisa any breaks in Act Three where the soprano has to sing two back-to-back duets and then sails right into a demanding trio. Stoyanova is particularly thrilling in this sequence. Kelsey, a Ryan Opera Center alumnus, is striking as Miller. His voice seems to have only become stronger and more dominant than it was when he appeared in the title role of Lyric's production of "Rigoletto" two seasons ago. Van Horn, also an alum of the Ryan Opera Center, slays the role of Count Walter. What a pleasant surprise Howard is as the despicable Wurm. The young bass, who is making his Lyric debut with this role, will appear again next spring in Lyric's Ring cycle.
Director Francesca Zambello, with her work here, proves just why she is currently one of the most in-demand directors of large-scale musical productions and operas worldwide. She is once again most adept at handling the large crowd scenes involving the entire chorus and makes some very bold statements about class distinctions in the process. Conductor Mazzola, who is internationally recognized as a master interpreter of Verdi, has a major success with this bel canto classic.

______________________________________________________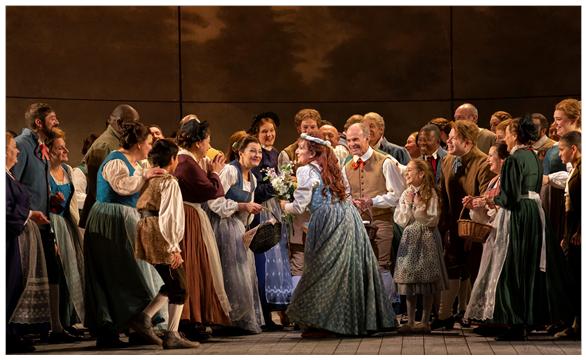 "Luisa Miller" has one remaining performance, which is as follows:
Wednesday, October 31 at 2:00 PM
Lyric Opera is located at 20 North Wacker Drive, Chicago, IL
For tickets, call (312) 827-5600 or visit www.lyricopera.org
Running time is 2 hours and 45 minutes with one intermission.