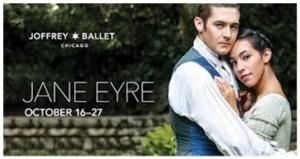 Cathy Marston's passionate choreography, which tells the story beautifully, is set to a lush score compiled by Philip Feeney with original music as well as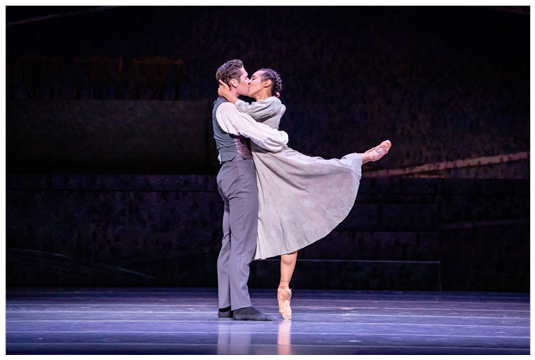 pieces composed by Fannie Mendelssohn.  Patrick Kinmonth's costumes and set were wisely kept simple.       
My friends Crista, Cindy (who considers herself and expert on all things "Jane Eyre"), and I agreed that every important element was there – except for the madwoman's brother, who wasn't all that important a character anyway.  Although the book is written in the first person, kind of a journal of Jane's struggles as told later in her life, the ballet is done in a series of flashbacks with the D-Men, kind of a dancing Greek chorus, who sweep her from one flashback to the next. 
Opening night, the part of Jane Eyre was danced by Amanda Assucena (Anais Bueno and Victoria Jaiani will also dance the part).  It's not a cliché to say that this is a tour de force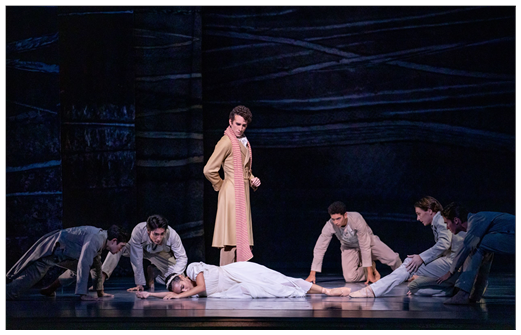 performance for her and Greig Matthews who danced in the role of Edward Rochester, her employer and the master of Thornfield. 
In the prologue, Jane is running from her inner demons (the D-Men) and collapses.  The D-Men reappear throughout the story, always moving Jane into the next scene.  The D-Men (who are not mentioned in another part) are: Yoshihisa Arai, Evan Boersma, José Pablo Castro Cuevas, Fernando Duarte, Stefan Goncalvez, Hansol Jeong, Graham Maverick and Aaron Renteria.
After she's rescued by St. John Rivers (Edson Barbosa), she tells her story.  Young Jane (Yumi Kanazawa) is orphaned and taken to the home of her aunt, Mrs. Reed (April Daly).  Jane's cousins,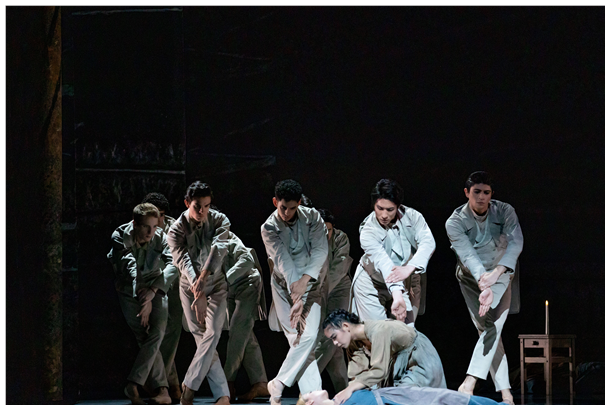 Eliza (Yuka Iwai), Georgiana (Valeria Chakina) and John (Xavier Núñez), taking their cue from their mother are mean and merciless to Jane.  The maid, Bessie (Christine Rocas), is kind to Jane when the mistress isn't looking. 
Mrs. Reed turns Jane over to Reverend Brocklehurst (Ternur Suluashvili}, Headmaster of the Lowood School for Orphaned Girls.  Jane becomes best friends with Helen Burns (Brooke Linford), the target for much of the Reverend's cruelty.  In a moving scene, Jane and Helen are forced to stand on chairs until Helen collapses and eventually dies. 
Here the story leaps forward and we see grown-up Jane arriving at Thornfield where she meets Mrs. Fairfax (Lucia Connolly), the Housekeeper, and her young charge, Adele Varens (Cara Marie Gary).  Adele's choreography is punctuated with childlike, playful leaps.  Her first night, Jane notices a rather sinister-looking servant, Grace Poole (Dara Holmes).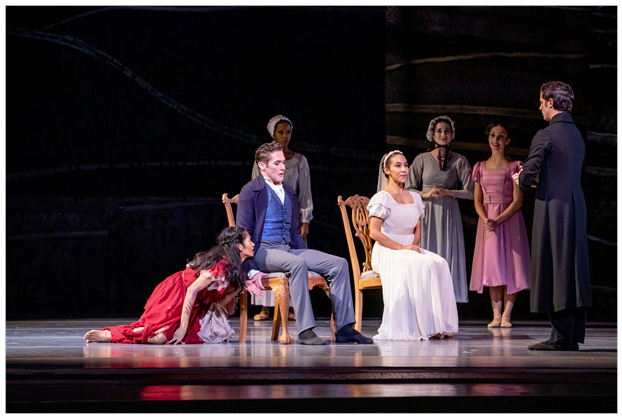 When the Master of Thornfield returns home, he is dismissive of Jane and kind to Adele, as he goes about his business.  Soon after, he hosts a house party which included a wealthy socialite, Blanche Ingram (Jeraldine Mendoza).  Jane and Adele are invited to a dancing party. 
That night, Jane wakes up to the smell of smoke, leading her to Rochester's room which is on fire, but she saves his life. 
As Rochester and Jane are falling in love with Jane, Bertha Mason (Christine Rocas) lurks in a doorway at the rear of the stage.  The madwoman, wearing a red evening dress with her black hair in disarray, gets loose more than once.   Rochester proposes, Jane accepts.  At the ceremony, the Vicar (Alberto Velazquez) is interrupted by the madwoman, Rochester is in despair and Jane flees.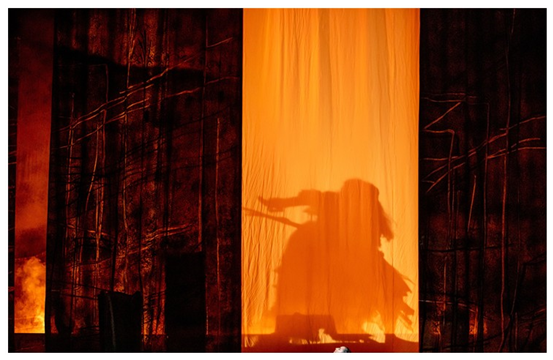 This scene returns to the prologue, where Jane is running and collapses.  She is found by St. John Rivers (Barbosa) and his sisters, Diana (Gayeon Jung) and Mary (Olivia Tang-Mifsaud) who nurse her back to health.  Although St. John sees her as a potential wife, Jane wants nothing to do with him, turning him down time after time. 
Meanwhile, at Thornfield, Bertha escapes and sets the house on fire.  As the house burns, Bertha dances on the roof, while Rochester tries to rescue her.  The Rocas/Matthews pas de deux in front of the fire is dramatic, tragic and magnificent.   
When Jane returns to the burned-out Thornfield, she learns that Rochester is blind.  Jane still loves him, and they reunite.  At the end, though, she walks away from him, into a single spot (because she's done it all alone), and the curtain falls.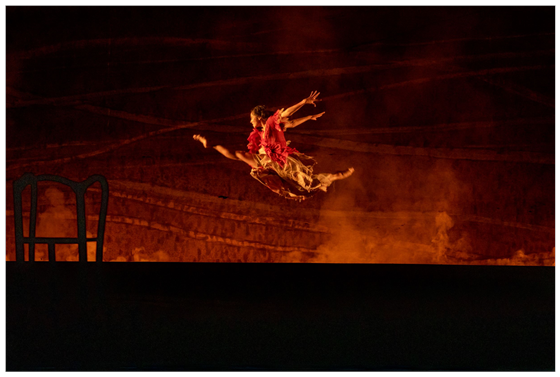 "Jane Eyre" runs through October 27th at the Auditorium Theatre of Roosevelt University, 50 E. Ida B. Wells Drive, Chicago.  The best parking option I've found is Loop Auto Parks, 524 S Wabash (under the El) at $20; $16 with coupon available at www.auditoriumtheatre.org/plan-your-visit/parking-and-directions/. 
Running time is 2 hours, 15 minutes, with an intermission.  Remaining performances are October 25th at 7:30 pm; October 26th at 2:00 and 7:30 pm; and October 27th at 2:00 pm.  Tickets range from $35-$199.  FYI www.joffrey.org. 
Next up for the Joffrey: "The Nutcracker", November 20th through December 29th.  More information and tickets can be found at www.joffrey.org.