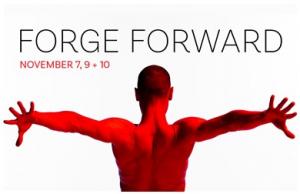 Crystal Pite's somewhat menacing and dark "Grace Engine" opens the program. Created two years ago, Pite's work utilizes the full company of Hubbard Street dancers and is a bit of a battle royale of the sexes. Fourteen dancers (seven male and seven female) face off for complete domination. Using highly-amplified sound effects, such as the heavy footsteps heard across a hardwood floor which opens the piece, with a male dancer -- who you would think was wearing a pair of oxford wingtips but is in fact just clad in black socks -- walks across the stage, is a nice attempt to startle our perspective.
Pite's cheeky work could be interpreted as a sly commentary on the corporate grind faced by the American work force, especially because all of the dancers are wearing men's white dress shirts, black trousers and dark linen suit jackets. When the dancers shed their jackets and throw them silently into the wings it is almost a metaphorical act of rolling up their sleeves, no longer encumbered by the restrictive garment. Groupings are almost exclusively male or female, but midway through, there is one brief pas de deux in which the man and woman seem to be more in conflict with one another than in harmonious balance.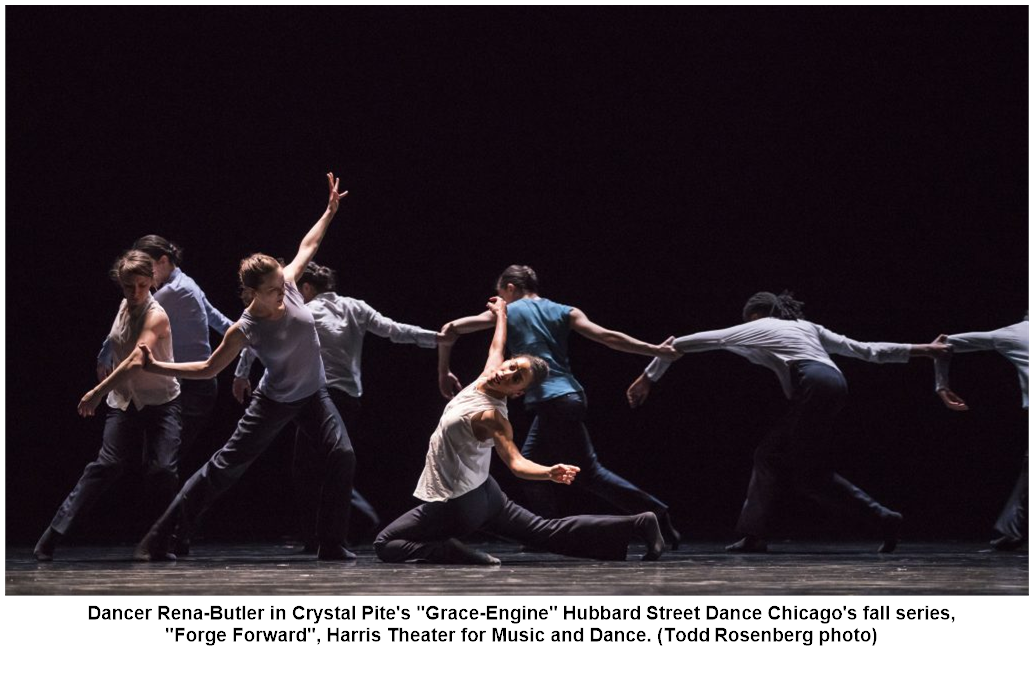 Long lines of dancers, arms entwined, resemble falling dominoes but can be supported and saved from a fatal demise.  Pite's choreography even has some dancers literally walking across the backs of their counterparts, as if ruthlessly climbing the corporate ladder or stabbing their co-workers in the back. She often has the dancers in profile, looking as if they are about to sprint away or already in mid-stride. Much of the movement is in unison slow motion, which is highly challenging physically, but extremely interesting visually.
Owen Belton's industrial score is composed of transgressive electronics (think Trent Reznor) punctuated by train whistles, mechanized engines and the whirring and banging of heavy machinery. Jim French's lighting design reinforces the corporate milieu. Six lighting fixtures with fluorescent tubes hang above stage right, running upstage to downstage. Near the conclusion, the light from above the stage seems to resemble sunbeams that are piercing a sewer grate, as if the dancers were office rats scurrying away into the darkness from the shafts of light.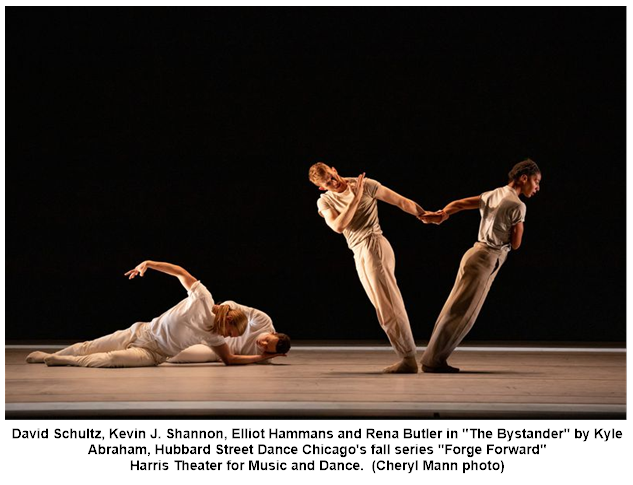 "The Bystander" is Kyle Abraham's newest work, which was choreographed in collaboration with Hubbard Street's dancers. Set to the music of Franz Schubert's late-career song cycle, sung in German, it is an almost playful murder mystery for seven dancers. Abraham, in text that is projected onto a screen on the back wall, has created a character biography for each dancer, who are all suspects in a series of multiple murders. At one point, the dancers huddle together and face upstage during a rather lengthy segment and all movement seems to stop so that the audience has time to read the narrative of how the characters are connected by a restaurant named the Golden Eel and may be involved in an underworld crime syndicate. The most disturbing moment in "The Bystander" is a solo for a male dancer, in which the music stops and only rapid gunfire is heard as the dancer reels and staggers and eventually falls, with just his lower extremities visible on stage, as a result of his physical trauma.
The evening concludes with Rena Butler's "This, That, and the Third." This work is possibly the most far-reaching and multifaceted of the three presented here and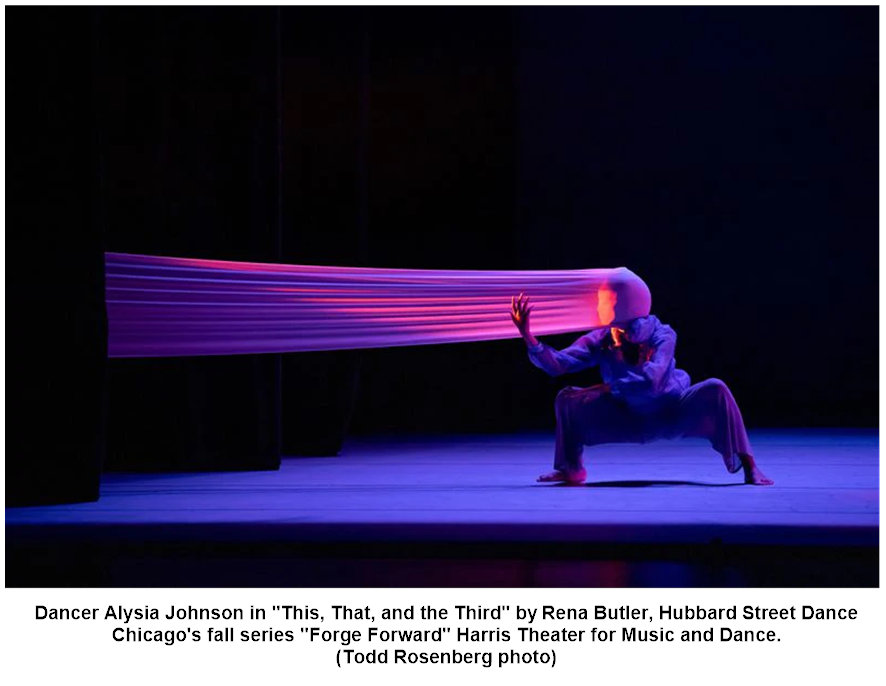 definitely the most joyous. Adrienne Lipson's costumes add a refreshing splash of vivid colors and she has all six of the dancers adorned in nearly every color of the rainbow. Addressing themes of gun violence and its effect on a community, gender norms, code-switching and basic identity in a universal world, it is set to the original music of Darryl J. Hoffman and incorporates samples of Chance the Rapper as well as "Dueling Banjos" and multi-lingual voice-over versions of Abraham Lincoln's speech "The House Divided." The most hopeful moment occurs when a Latinx dancer and an Asian dancer sit down side by side and speak in their native language to one another and eventually meet on some common ground.
Butler, who was born and raised on Chicago's Southside, was the recipient earlier this year of the esteemed Princess Grace Award. She used the fellowship's funding to create "This, That, and the Third." Money well spent. This young talent, who was featured in both "Grace Engine" and "The Bystander" as a dancer, has a very promising career ahead of her as a choreographer.
_______________________________________________________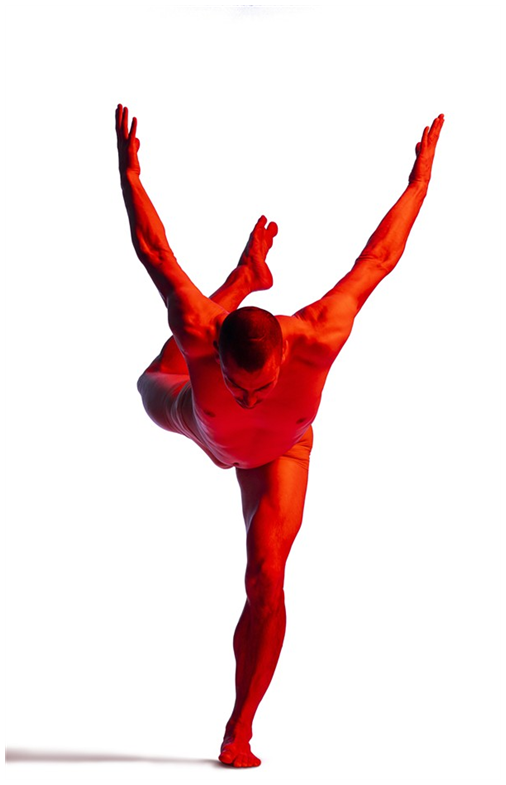 "Forge Forward" has two remaining performances:
Saturday, November 9 at 8:00 PM
Sunday, November 10 at 3:00 PM
Harris Theater for Music and Dance in Millennium Park is located at 205 East Randolph Street, Chicago, IL
Tickets can be purchased at the Hubbard Street Ticket Office, by phone at 312-635-3799 and online at www.hubbardstreetdance.com
Running time is 2 hours with two intermissions.