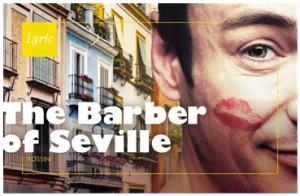 This being a comedic opera the plot is not all that complex but the libretto by Cesare Sterbini is very witty and there were great shrieks of laughter ringing throughout the opera house on opening night. Count Almaviva (tenor Lawrence Brownlee) is in love with the young Rosina (mezzo-soprano Marianne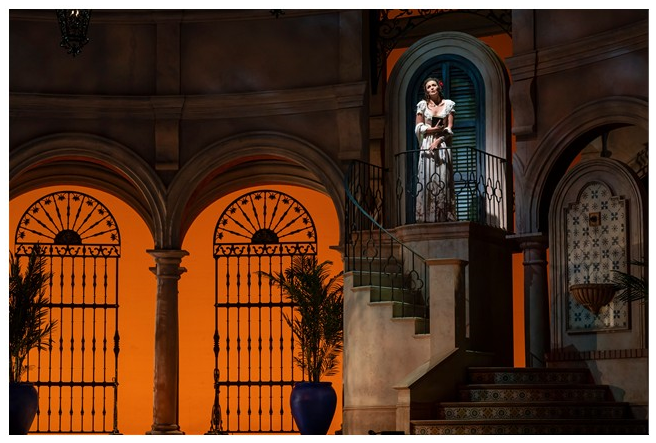 Crebassa), who is the ward of the more senior Dr. Bartolo (baritone Alessandro Corbelli). Dr. Bartolo keeps Rosina locked up in his large villa and forbids anyone to visit her for fear that she may meet a more desirable suitor.  Bartolo is also fond of Rosina and plans on marrying her before the day is out. Count Almaviva tries to serenade Rosina from outside of her balcony window but to no avail.
Enter Figaro (bass-baritone Adam Plachetka), the local barber but also an unabashed bachelor and well-connected fixer for the townspeople. Figaro helps Almaviva concoct a sure-fire scheme that will allow Almaviva to gain access to the interior of Bartolo's home and eventually win the hand of Rosina. The plan includes having Almaviva impersonate a drunken soldier but when that fails he is disguised as Rosina's music teacher, Don Alonso. With Figaro by his side and plenty of merry hijinks Almaviva is ultimately successful in marrying his true love.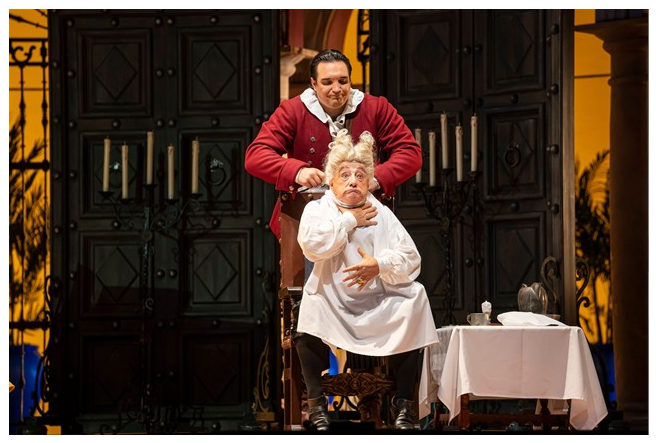 a treat it is to have crowd-favorite Lawrence Brownlee back upon the stage of Lyric. Brownlee brings so much joy to his Almaviva and he clearly revels in getting to play such a juicy comical role. His drunken soldier act is purely adorable and, when wearing a physical disguise as Don Alonso, Brownlee also alters his natural singing voice as well. Plachetka matches him stride for stride and makes for a formidable Figaro, immediately setting the bar extremely high with his powerful and legendary opening aria accompanied by a pair of pretty maidens upon each of his arms. Tara Faircloth, who is reviving Rob Ashford's original direction, does an interesting job of contrasting the physical discrepancy between Brownlee and Plachetka, often to great comic effect. Corbelli has sung Bartolo so many times that he has mastered every nuance of this character and turned his portrayal into one of his signature roles.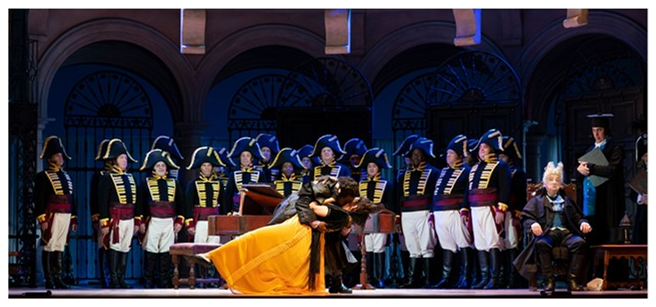 It is very evident that Rob Ashford, who conceived and directed this original production in 2013, is also a celebrated choreographer. All of the movement is very specific and the larger crowd scenes involving the police corps or the full military regiment are handled sublimely well. Even the transition between the first and second scene of Act One are cleverly executed.
Scott Pask's set design is simple -- just a series of vaulted arches with wrought iron grille work accents that are both sleek and elegant. The piece de resistance is a large oval fully functional fountain that magically appears from below stage level to adorn Bartolo's courtyard. Catherine Zuber's costumes are magnificent and Howard Harrison's lighting design is sumptuous. Since all of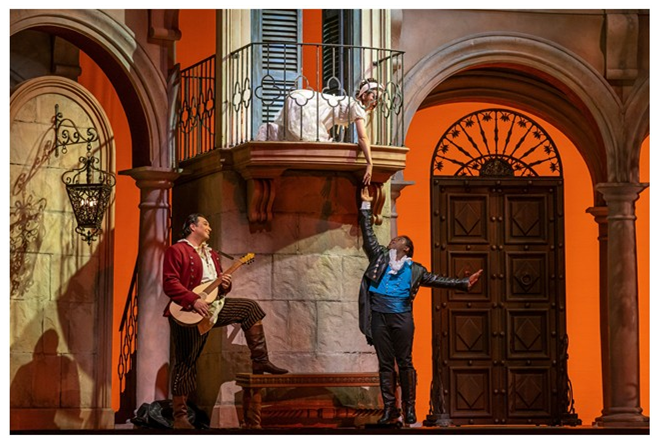 the action in "The Barber of Seville" occurs during a single day, Harrison's lighting gradually and subtly moves from the soft pastels of dawn to the bright and bold yellows and oranges of a blazing midday sun to the deep indigo blues for the midnight nuptials.
______________________________________________________
"The Barber of Seville" has the following remaining performances:
October 18 at 7:00 PM, October 21 at 7:00 PM and October 27 at 2:00 PM.
Lyric Opera of Chicago is located at 20 North Wacker Drive, Chicago, IL
Running time is 3 hours and 15 minutes with one intermission.