Date:
Sun, 05/22/2022 -

1:00pm

to

4:00pm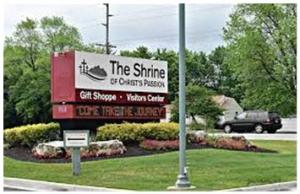 The newest and very exciting addition to The Shrine of Christ's Passion in St. John is the "Our Lady of Guadalupe Plaza." Here you will find two magnificent bronze sculptures highlighting the vision that Saint Juan Diego experienced high in the mountains of Mexico. It was here where the Blessed Mother first appeared to him in December of 1531. Guests will find a small chapel, simple but stunningly beautiful! A peaceful place to meditate on the wonderful gift Our Lady gave to the world. The beautiful plaza can accommodate thousands to pray and have a quiet conversation with Our Lord and His Blessed Mother.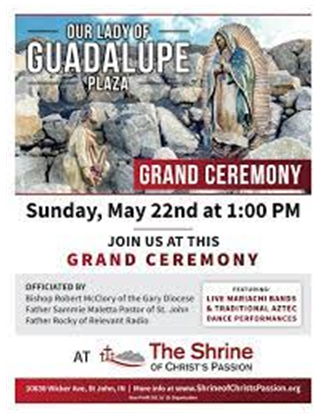 "Hundreds of thousands of people have visited The Shrine of Christ's Passion. The 'Our Lady of Guadalupe Plaza' is another beautiful work-of-art and inspirational addition to the half-mile Prayer Trail and Moses at Mount Sinai extension," said Paul Anderson, General Manager of The Shrine of Christ's Passion.
 A grand celebration will take place on May 22, 2022 beginning at 1:00 pm. Bishop Robert McClory of the Gary Diocese, Father Rocky of Relevant Radio and Father Sammie Maletta pastor of St. John the Evangelist Parish will be officiating the beautiful ceremony. Guests will be welcomed by a troupe performing traditional Aztec dances. A Mariachi group will also be performing the traditional music dedicated to the Virgen Maria. Beautiful music from the St. John the Evangelist Choir will add to the experience. All are invited to participate in this Grand Ceremony!
 The Shrine of Christ's Passion Visitor's Center and Gift Shoppe is open daily from 10:00 am to 5:00 pm. For more information, visit www.shrineofchristspassion.org.