Date:
Sun, 07/18/2021 - 12:01am

to

Sat, 07/24/2021 - 11:59pm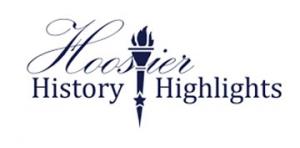 Indiana Quick Quiz
From the list below, select the four counties which border Illinois.  
Lake     Grant     Vigo     Henry     Newton     Vermillion
Answers Below 
1820     In State v. Lasselle, the Indiana Supreme Court ruled that "slavery can have no existence in Indiana."  The case involved Polly Strong, an enslaved African American woman who was purchased at the age of ten by Vincennes innkeeper Hyancinthe Lasselle.  The decision established the 1816 Indiana Constitution as the authority in state courts regarding slavery and involuntary servitude.  
Did You Know?
In March of 1880, Wabash, Indiana, made history by becoming the "first electrically lighted city in the world."  An inventor named Charles F. Brush had devised an electric arc system which could illuminate large outdoor areas.  HIs lamps were placed on a flag staff on the dome of the Wabash County Courthouse.  Each lamp was rated at 3,000 candle power. A crowd gathered after dark to witness the event.  An observer reported that "the people stood almost breathless, overwhelmed with awe, as if in the presence of the supernatural. . . the strange, weird light, exceeded in power only by the sun, rendered the square as light as midday."
1890    Farms in many sections of the state were suffering from drought conditions.  Reports from Jeffersonville indicated that the corn was "almost beyond help, and even though it should rain, not more than one-third of the crop will be gathered.  No oats, half a crop of wheat, hardly any potatoes nor vegetables of any kind."
1927     Edna Browning Ruby, from Lafayette, was named the "Outstanding Business Woman of the Year."  The honor was bestowed by the National Federation of Business and Professional Women's Clubs.  She had already earned gold medals and other honors for her artistic talent in designing stained glass windows for churches.  She was also considered one of the nation's leaders in textile design.  
1935     The Boone County Rural Electric Membership Corporation (REMC) became the first federally-funded electric utility in the state and one of the first in the nation.  Although many cities and towns already had electrical power, most rural areas were still without it.  Other counties soon came on line as crews went from farmhouse to farmhouse installing wires, fuse boxes, and outlets.
75 YEARS AGO
1946     City leaders from around Indiana met at the Claypool Hotel in Indianapolis to discuss post-World War II issues and problems.  Among the 450 representatives were Mayor Loba Jack Bruner of Bloomington, Mayor Sydney Baker of New Castle, Mayor W. Vincent Youkey of Crown Point, and Mayor Clarence D. Rotruck of Anderson.  Topics discussed included finances, street repair, and sewage disposal plants.  
1969     Purdue University engineering graduate Neil Armstrong became the first person to walk on the surface of the moon.  He was 239,000 miles from home when he stepped from the lunar module Eagle and said, "That's one small step for a man, one giant leap for mankind." He was on the mission with Astronauts Edwin "Buzz" Aldrin and Michael Collins.  
Hoosier Quote of the Week
"Enjoy the little things in life because one day you'll look back and realize they were the big things."
- - - Kurt Vonnegut (1922 - 2007)
ABE MARTIN SEZ:
Bees hain't as busy as we think they are.  They jest can't buzz slow.
(Kin Hubbard, The Indianapolis News, July 23, 1928)
ANSWERS:  Lake, Vigo, Newton, Vermillion
 Follow this link to subscribe to Hoosier History Highlights and to view archived editions
Indiana Statehouse Tour Office  |  Indiana Department of Administration
Guided tours of the Indiana Statehouse are offered Monday through Saturday.  For more information, please contact the tour office.  
(317) 233-5293
touroffice@idoa.in.gov
Take an "Armchair Tour" of the Indiana Statehouse!
Follow us:   Instagram @instatehousetouroffice; Facebook @Indiana Statehouse Tour Office and Education Center; Twitter @INSthouseEdCntr